Reminder Preferences (Calendar)
To modify the Accelerator Calendar Reminder preferences, from the Accelerator calendar click the |Tools| menu then select |Preferences|. From the 'Calendar Preferences' screen, click the |Reminders| tab, the following reminder preferences are available. Be sure and click the |Save| button to save your selections.
Reminders Tab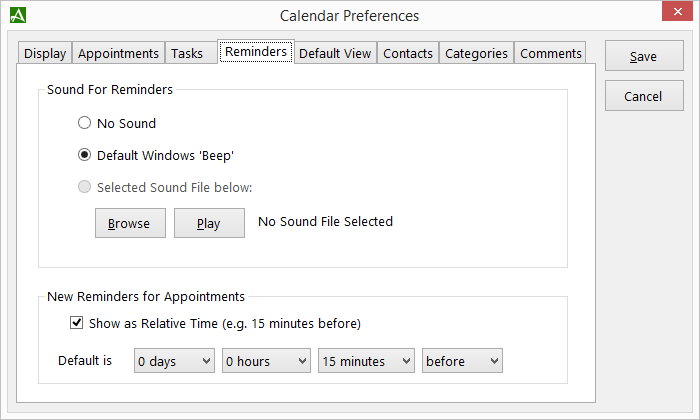 Sound for Reminders
| Setting | Description |
| --- | --- |
| No Sound | Choosing this setting will cause reminders to display with no sound. |
| Default Windows 'Beep' | Choosing this setting will use the default Windows 'Beep" sound. This sound will vary per version of windows. |
| Selection Sound File below | Click the |Browse| button to select additional sound files and the |Play| button to sample them. The selected sound file will be used for reminders. |
New Reminders for Appointments
| Setting | Description |
| --- | --- |
| Show as relative time | Selecting this option will make new reminder time relative to appointment time. If not selected, absolute time will be shown. Reminders can be set days, hours, and/or minutes before or after an appointment. |
© 1991-2019 - Baseline Data Systems, Inc.