Mal-Ware Web Proxy Fix
If you are receiving a 'web proxy' error message when attempting to login to Accelerator and do not use a proxy server, your operating system web proxy services may have been compromised by Mal-Ware. For a possible fix to this problem, please follow the directions below.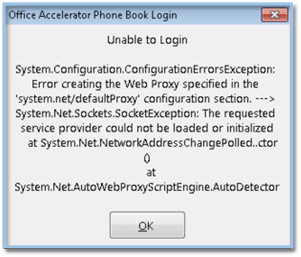 First make sure you have anti-virus installed on your PC and that it is up to date. Run a complete scan on your PC to help minimize any existing threats.
Next download, extract and run the following batch file (proxyFix.zip) on your pc, doing so will restore any hijacked web proxy server settings. Once complete, try logging into Accelerator.

Network Proxy Fix Download
© 1991-2019 - Baseline Data Systems, Inc.